FROM PERSONAL TRAINING TO EFITX
John's enthusiasm towards Personal Training began in 1991 when a friend asked to become his client. Soon enough, John passed his first personal training certification and began coaching several clients as a hobby. In the early 2000's, John left the technology industry to focus on full time Personal Training. He landed a job at 24 Hour Fitness. Within his four years of employment with the firm, he climbed into positions such as Assistant Fitness Manager where he became a key player to training new floor instructors and taking responsibilities of supervision. This fast-paced gym environment brought many opportunities to work with a diverse number of clients. From teenagers to seniors, thin to obese, physically limited to seasoned athletes, John's was often the top delegated fitness professional of choice despite any challenging physical contingencies from clients.
ENTREPRENEUR
By 2005, John partnered with a few other trainers in order to open up their own facility. John was nominated as president of Maximum Core. This small personal training studio spun off to the opening of Sweat Studio in 2007. His new facility was larger at two thousand square feet and thrived during its introductory years. Sweat Studio online videos became very successful on YouTube reaching over 1 million channel views within two years. Sweat Studio was featured on KRON's Best of the Bay TV Series.
By early 2009, business began to slow down as the country fell into a recession. John asked himself the question, "How can I take my business online? " Managing workouts on a paper was very tedious and redundant. Although using an Excel spreadsheet was possible, trying to utilize a spreadsheet on a tablet was too clustered at the time. So creating a mobile app seemed to be the logical answer. This led to the creation of Efit Tracker.
During the summer of 2009, John took a short vacation to the Philippines. It wasn't much of a relaxing trip as John began developing the foundation for his fitness application. After returning from his trip, he assembled a team of software developers. By November of 2009, the first version of Efit Tracker was born. The application immediately accumulated over 50 users during the one-day launch event. Efit Tracker was working fairly well but as users accumulated functional bugs were discovered. The cause of the issues were the entire back-end was written in JavaScript which was not ideal for data server management.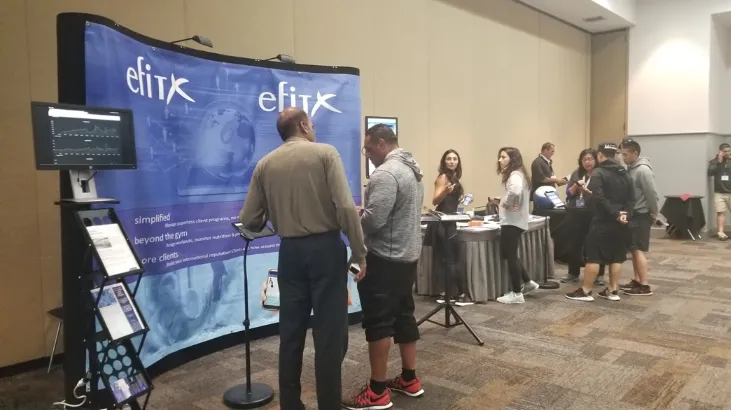 Efit Tracker Version 2 was released to beta in 2010. It brought many new features such as nutrition management, session tracking and analytics. This version resolved many of the bugs from the previous version as the back-end was developed by John written in PHP, a well-suited programming language for data management. John was now the senior developer of his software team. The same year an additional version was launched to integrate SaaS (Software as a service) and a new software iteration called Efit Pro. This meant the application was now available to be branded for other personal training companies. As years passed, John and a few other Efit Pro subscribers continued to manage their clients utilizing the application. Although the app was to complement his local client base, he began to coach clients online from different states and countries. New versions along with new features and improvements continued to be implemented every few months. By 2015, the user base grew to nearly 600 users. Efit Tracker's name was simplified to EfitX for Version 4. Today in 2020, over 9 versions have been released and the Efit family now consists of 3 products: EfitX, EfitBot and Efit Active. As technology advances, machine learning and artificial intelligence play an important role towards future versions.
ABOUT BODYBUILDING
The sport of Bodybuilding showed substantial growth in the past decade. Although the sport has been around for a long time, the general public seems to be misperceived on how the structure has changed. Most people see Bodybuilding as huge muscular men and women in swimsuits posing on stage. In earlier years such as the 1970's to early 1980's, that was somewhat true, but today this would be a very vague description. The International Federation of BodyBuilding (IFBB) is the biggest organization and recognized for The Mr. Olympia. The IFBB was considered as a professional league but as the sport became more popular another organization was needed to accommodate amateur competitors. The National Physique Committee (NPC) was formed in 1982. The sport of Bodybuilding has taken heavy criticism for the use of muscle enhancing and performance drugs. This controversy led to the forming of drug-free organizations such as the International Natural Bodybuilding Association (INBA) and the PNBA their Professional league. Today the IFBB, NPC, PNBA and INBA are some of the leading organizations and have evolved to offer many venues and categories for several types of physique competitors.
Most Popular Categories
Men's Bodybuilding
Classic Physique
Men's Physique
Fitness
Women's Bodybuilding
Women's Physique
Bikini
Figure
Wellness
Back in 2005, NPC show venues averaged around 150 to 200 athlete participants and drew spectators of over 1000. Within a few years, venues grew as participants increased to over 400 with spectators exceeding 3000. Each venue showed substantial growth along with the number of held annual shows, especially in California. The biggest annual venue which is the godfather of all venues, has been the annual Olympia Weekend in Las Vegas which now draws more than 50,000 attendees.
"The best physique does not win every time. Also, drug-free competitions does not necessarily mean everyone on stage is drug free."
JOHN'S INVOLVEMENT IN BODYBUILDING
Fourteen of John's clients have stepped on stage since 2008. Most clients were coached to compete in the Figure category while a handful competed in Bikini and Men's Physique categories. Many of John's clients were not at prime age which made training aspects more challenging. John himself began competing in Men's Physique at the late age of 45 as well. To remain natural and drug-free was utmost important to John as he influenced his clients to practice the same ethics. "The sport of Bodybuilding is heavily controversial and corruption does exist," John explains to his clients. "The best physique does not win every time. Also, drug-free competitions does not necessarily mean everyone on stage is drug free." While natural organizations apply drug-tests, most as urine tests, not all athlete's specimen will make it to the lab to be tested. The reason why, it is too expensive, tests can easily exceed $250 per athlete. Only a few selected participants will have specimen examined and usually these are athletes that place high in the rankings. John has been a member of drug-free organizations such as USA Weightlifting and USA Powerlifting as the testing procedure is fairly similar. The most used drug testing organization is WADA (World Anti-Doping Agency).
TRUE WINNERS DON'T NEED TROPHIES
John says competing is not always about being number one and winning. Clients want to be coached for competitions for other benefits and desires. The main reasons why:
For the thrill of the experience.
To get into the best shape that I have ever been.
To accomplish something extreme.
Once an athlete has stepped on stage of their first physique competition, they've become a winner, a big winner. Some athletes continue to participate at more shows and some have the desire to level up. John has coached Yvonne Bastian to reach high levels. From 2009 to 2014, John was Yvonne's Personal Trainer and Figure Coach. During her journey with John, she accumulated over 14 trophies and eventually reached her IFBB Pro status in 2015. Her debut as an IFBB Professional took place March 26th, 2016 at the Governor's Cup, Sacramento, California. Over the past decade John and his competitor clients accumulated over 45 trophies.
SETTING STRENGTH RECORDS
John was first introduced to Powerlifting in the early 2000's where he participated in a local event. During those times, competing in these types of strength competitions were not a priority as training ethics became a conflict to the sport of Bodybuilding which was more popular and in demand at that time. But after coaching physique competitors for several years along with himself as a competitor, it was time to look for something new. This is when John became a certified coach for USA Weightlifting and USA Powerlifitng. In 2015, John began to participate at local Weightlifting events and Powerlifting events. But before reading on, most people have trouble distinguishing the differences, so here is a summary for clarification.
Powerlifting
Competition Lifts: Squat, Bench Press, Deadlift
1 rep maximum
Weightlifting
Competition Lifts: Snatch, Clean & Jerk
1 rep maximum
Three lifts for Powerlifting and two for Weightlifting. The actual movements for each sport are not quite the same. Powerlifting requires pure strength with less emphasis on technique. Weightlifting requires ballistic movements with more speed and more technique. Thus, weightlifters need to move weight over their head in the upright position, unlike any of the Powerlifting Lifts. Each sport has disciplines as lifts must be clean and within the protocols of the organizations. Judges also look for many discrepancies that may allow an unfair advantage such as body positioning, barbell movement and the gear you may use. In comparison to typical gym lifters, they most likely don't practice within Powerlifting principals. Most gym lifters won't squat deep enough, thus tend to cheat on their bench presses by bouncing bars off their chest.
John has been participating in both sports and has reached milestones of success within his age category. In Weightlifting his biggest success was setting the California State Raw Deadlift and Bench Press Record in 2017 within his class, and then broke his own Deadlift record again in 2018. He was at age 50 and his body weight was under 66 kg (145.6 lbs) and he managed to Deadlift 172.5 kg (381 lbs) and Bench 95 kg, (210 lbs). Although he has lifted more in some of his videos, lifting at sanctioned events usually has variables. Sometimes equipment type and lifting environment may hinder the athlete's performance. Also there can be controversial issues where judges can nitpick your lift in which it does not get approved.
WORLD CLASS WEIGHTLIFTER
In 2020, most fellow lifters will say John has reached world class status because he qualified and participated at two world events, Masters Pan-Am in 2018 and Masters World Cup in 2019. John feels that this sounds overrated as he mentions,
"Although I've lifted enough to qualify for these events and participated with some of these best lifters in the world, I don't feel content and I need to achieve more. I need to be at more national events with higher scores."
So far, John's highlight of his career was the opportunity to represent the USA at the World Masters Cup in San Diego, California in 2019. Within his 67 kilos class were legendary lifters Sudhakar Jayant of India and Gunther Farfan of Venezuela. John placed with a bronze, respectively.
JOHN'S FITNESS BOOK
John is in the process of writing a fitness book. The book is currently untitled. Some of the content will discuss his experiences as a fitness professional along with how personal training has evolved and what are the key fundamentals of online coaching. What technology will impact the fitness industry? How to build more value to a client's fitness program by utilizing today's online technology? Many more interesting topics will be disclosed as the book nears completion.
WEB WIZZY
John is the Founder of Web Wizzy, a software company specializing in the development of Progressive Web Apps. He oversees all aspects of business strategy, partnerships and execution. Along with providing his expertise in Fitness Consulting, John contributes heavily to Full Stack Development for engineering. His extensive fitness background includes over 29 years training 30,000+ hours of clients' sessions. In his earlier years, John has dedicated over 11 years of experience in the manufacturing industry as a Production Control Analyst for Silicon Graphics, Senior Material Logistics Planner for Applied Materials and Master Scheduler for Indala, a division of Motorola. For more details please visit https://webwizzy.com .